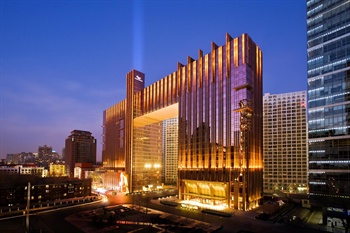 The Fairmont Beijing (Beijing Huabin Feiermeng Jiudian) is situated close to Beijing's central business district .With easy access to tourist attractions such as Wangfujing Street and entertainment center, the Forbidden City and the Tiananmen Square.
This Beijing hotel features rooms outfitted with plentiful high-tech conveniences such as WAVE CD players, 42-inch plasma TVs and DVD players. In addition, floor-to-ceiling-windows grant guests stellar views of the Beijing skyline.
In terms of dining, guests have many choices. There's fine Asian cuisine at Lunar 8, delicious Wagyu beef at The CUT, while the Sushi Bar offers mouth-watering Japanese sushi in an open-kitchen concept environment.
Guests will find a great venue for socializing in the hotel's Champagne Bar, but for those looking for a more relaxing way to spend the time, the Willow Stream Spa offers a myriad of indulgences soothing to both body and mind.